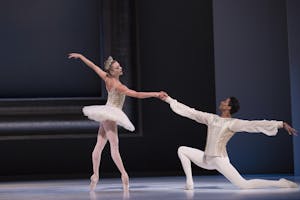 Presented by Ballet Sun Valley
Pacific Northwest Ballet - Program A - CANCELED
Ballet Sun Valley presents Pacific Northwest Ballet
To our Ballet Sun Valley Supporters,
We hope you and your family are healthy and safe.
The mission of Ballet Sun Valley is to bring the best of international ballet to the Sun Valley community. We believe that the joy, beauty, and transcendent experiences that this art form brings to our community will be especially welcomed and therapeutic this summer.
When we announced the 2020 Ballet Sun Valley Summer Festival with Pacific Northwest Ballet, we could never have anticipated a global pandemic that would have such far-reaching impacts on our community. Over the past month, the BSV Board and staff have been searching for the best and safest path forward for our festival this coming summer.
It now seems clear to us that it is unlikely the uncertainties created in the world today by the pandemic will resolve in time to allow for us to proceed with Pavilion performances in July. As a consequence, we regretfully announce the cancellation of our July performances. All tickets to the July performances will be automatically refunded. Refund information may be found at the end of this email.
On a bright note, the Sun Valley Resort has kindly offered us the option of presenting our festival on August 23rd and August 25th. Pacific Northwest Ballet is available and enthusiastic to join us in the Sun Valley Pavilion on these dates.
Will the pandemic uncertainties resolve in such a way that these new dates will be a prudent option? While we are optimistic that they will, we are also firmly committed, along with the Resort, to the health and safety of dancers, audience and staff. As a result, a decision will not be made regarding the August dates until mid-July. If all parties at that time are comfortable with late August performances, tickets for the two performances will go on sale on August 1st.
In the event that, for whatever reason, Pavilion performances are not possible for the August dates, please know that we are actively exploring alternative ways in which we can share the special talents of Pacific Northwest Ballet with the Sun Valley community in 2020.
Know that we remain forever grateful to all of you... our dedicated community of ballet lovers and ticket buyers... who make our festivals possible. We very much hope that we can share with this community two unforgettable evenings of ballet on August 23 & 25, 2020!
Stay well and stay tuned!
With Gratitude,
The Ballet Sun Valley Team
_____________________________________________
Two unforgettable evenings featuring the world class Pacific Northwest Ballet. Under the Artistic Direction of Peter Boal, Pacific Northwest Ballet will perform two completely different programs. The conductor of the Festival orchestra will be Maestro Martin West, acknowledged as one of the world's foremost ballet conductors.
Program A: July 13th, will feature a gala-style evening with a longer repertory piece as well as several shorter works
Program B: July 14th, will feature three Mixed Repertory-Style dances from PNB's extensive repertoire.
Tickets and ADA seating available by calling the Sun Valley Recreation office at (208) 622-2135.
Premiere and preferred seating available by purchasing sponsorships through Ballet Sun Valley. Call 208.727.7437 or visit balletsunvalley.org
The Lead Sponsor of Ballet Sun Valley Festival 2020 is Viking Cruises.

Venue Information:
Sun Valley Pavilion
300 Dollar Rd.
Sun Valley, ID, 83353